Spirulina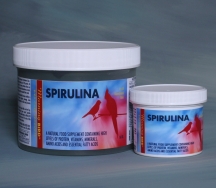 SPIRULINA is an edible, dried, microscopic, freshwater blue-green algae phytoplankton that contains up to 70% protein, 26 times the calcium in milk, and is far more nutritious than any known food. SPIRULINA is a rich source of phosphorus, niacin, vitamin B-12, beta carotene, iron and the essential fatty acid GLA, a rich anti inflammatory.

SPIRULINA has been shown to dramatically increase fertility in birds, stimulate breeding, produce brighter plumage, raise resistance to disease, increase intestinal tract flora, and promote overall good health.
HEALTH BENEFITS OF SPIRULINA
Several studies show that feeding Spirulina to birds accelerates the killing of E. coli and Staphylococcus aureus by the cellular immune system, improves white blood cell function, antibody production and T cell function. Why is this important? Baby birds are protected from infection after hatching by antibodies in egg yolk. Antibodies are a kind of molecular ID tag that mark germs for destruction by killer cells. They are produced by means of a complex network of white blood cells known as macrophages, T cells and B cells. These antibodies from the egg yolk are soon used up as the baby is exposed to germs in the outside world. This leaves the young chick vulnerable to infection unless it is able to build its own antibodies quickly. Spirulina accelerates the building of the cellular immune system, enabling it to better respond to antibody production and protect against invading germs.
DIRECTIONS FOR USE:
Enclosed spoon holds one level teaspoon. Feed to young and adult birds daily year round. Sprinkle SPIRULINA on fruits, vegetables, soaked seed or softfood OR offer as a free choice in a treat cup at the rate of 1% or less of the bird's total diet. Can be baked in bread products.
Keep container closed before and after use. This product is free of pesticides. Store in a cool, dry place.
Because SPIRULINA is a natural substance, the exact profile is variable depending upon plant sources and growing conditions
ACTIVE INGREDIENTS:




Protein: 65-70%
Carbohydrates: 15-25%
Fats: 6-8%
Minerals: 10-13%
Fiber: 8-10%
Ash: 7-8%
Moisture: 3-7%


Essential Fatty Acids
Gamma-Linolenic
Linolenic'




Vitamins
Vitamin A
Vitamin B-1
Vitamin B-2
Vitamin B-3
Vitamin E
Beta Carotene
Biotin
Cyanocobalamin
Inositol
Folic Acid
Pantothenic Acid


Minerals
Calcium
Chromium
Copper
Germanium
Iron
Magnesium
Manganese
Phosphorus
Potassium
Selenium
Sodium
Zinc


Amino Acids
Alanine
Arginine
Asparic Acid
Cysteine
Glutamic Acid
Glycine
Histidine
Isoleucine
Leucine
Lycine
Methionine
Phenylalanine
Proline
Threonine
Tryptophan
Tyrosine
Valine
FinchG

Lots Of Societies, 11 Gouldians, 4 Orange Cheek Waxbills, 2 Orange Weavers, 3 Spice Finches,1 Quaker, 1 Conure and 2 Lineolated Parakeets



FinchG

Founder-Admin




Eggs For Posting : 519


Join date

: 2010-10-18




---
Permissions in this forum:
You
cannot
reply to topics in this forum